Therapeutic Support » Child Parent Relationship Therapy (CPRT)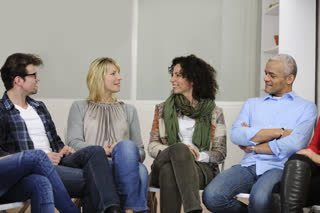 Child Parent Relationship Therapy (CPRT) is similar to Filial Therapy. It is a research-based structured group programme for parents and carers, that teaches them how to use some of the skills that Play Therapists use to help children experiencing social, emotional, or behavioural problems.  The programme is delivered qualified and experienced Play Therapists. 
CPRT is designed to strengthen the relationship between a parent/carer and a child, and further develop parent's skills in meeting a range of emotions, feelings and behaviours that the child may bring to the relationships within the family.  The parents/carers will be taught how to use these methods in 'special play time' sessions with their children. The skills that this programme develops enhance attachment and strengthen communication and boundary setting.
Child Parent Relationship Therapy is a psycho educational model where participants learn from each other as well as the Play Therapist facilitators.  Play sessions will take place in the home and group participants bring to the group videos of the play sessions to look at the skills and also gain insight into the child's emotions and behaviour.
This psycho educational model has proven highly successful as a means of gaining peer support in learning. Participants will be encouraged to share experiences and develop effective strategies. A strong emphasis is made on focusing on what is effective in helping develop positive relationships. This approach both empowers and educates the parents and carers simultaneously.
The programme is usually provided to small groups of parents and carers over twelve two hour weekly sessions.  Additional individual support can be offered if required.  The programme is delivered through a mixture of direct teaching, presentations, video clips and group discussions.