What is Play Therapy?
Play Therapy is defined as a dynamic interpersonal relationship between the a child (or person of any age) and a therapist trained Play Therapy procedures who provides selected play materials and facilitates the development of a safe relationship for the child (or person of any age) to fully express and explore self (feelings, thoughts, experiences and behaviours) through play, the child's natural medium of communication, for optimal growth and development.
Landreth, G. L. (2012)
Play Therapy: The Art of the Relationship (3rd Edition) : New York, Routledge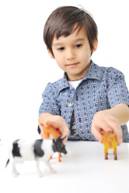 Play Therapy is equivalent to adult verbal counselling and therapy, but it uses children's primary form of communication, play to access the therapy.  Children and young people may not have the language, cognitive and emotional development to be able to verbalise the things that are impacting on their well-being.
Many of us often find it difficult to discuss our emotions and difficult experiences.  However it is even more challenging for children and young people who are learning to talk and communicate and have yet to learn the skill of discussing emotions with adults. 
Play Therapy is an effective method to enable children and young people to access and explore their emotions and experiences that may be impacting on their wellbeing.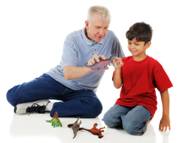 Pioneered by Virginia Axline, Play Therapy has been used since the mid 1940's and has developed in to an established and proven method of helping children and young people.
Children can feel overwhelmed by their emotions and may not respond to us asking them directly about difficult subjects.  They often refuse to share anything or say what they think we want to hear.
Play is children's way of exploring their issues.  However sometimes children need the additional support of a trained Play Therapist to enable to them to address their issues.  The role of the Play Therapist is to provide a therapeutic environment which promotes positive changes in the child. Positive changes come about from the symbolic communication of the child's play and the therapeutic relationship with the Play Therapist. 
For further information, please contact us.