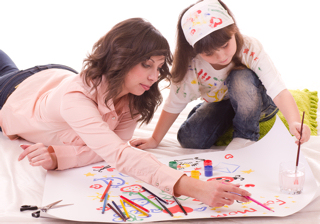 Filial Therapy is a type of therapy designed to support children and young people who are experiencing social, emotional, mental health and behavioural difficulties in children.  It is based on the principles of Play Therapy; however, it is distinct from it, in that it teaches parents (or other paraprofessionals) to use the principles of Play Therapy in a special play time with their child.   With respect to older children, filial therapy uses techniques that are adapted to age-appropriate interests and activities.
It is designed tostrengthen the relationship between a parent/carer and a child, and further develop parents' skills in meeting a range of emotions, feelings and behaviours that the child may bring to the relationships within the family.  The parents/carers will be taught how to use these methods in 'special play time' sessions with their children. The skills that this programme develops enhance attachment and strengthen communication and boundary setting.
It is different to Child Parent Relationship Therapy as it is designed to work with on an individual basis, but both use the same principles.