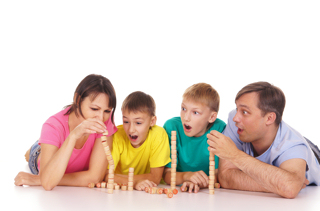 The role of parenting is a joyous one, but it is also challenging.  Therapeutic family support will provide therapeutic parenting support for parents and carers to allow them to explore their thoughts, needs and feelings in relation to caring for their child.  It will also help to develop additional skills to continue building the relationship with their child and provide closer, happier times between them – more fun and laughter and warm memories.
Depending on the assessment and in conjunction with the parents, the approach would be a bespoke programme incorporating behavioural support, psychoeducational support about the impact of trauma and attachment disruptions, exploration of arising challenges, Theraplay® – Using the Principles of Theraplay® and Filial/Child Parent Relationship Therapy. (CPRT)
Psychoeducational parent support sessions will provide a greater understanding of a therapeutic approach to parenting their child. These are used to assist parents to continue to develop their understanding of the impact of trauma, attachment behaviours and dissociation in parenting their children. In addition strategies and interventions will be explored and developed to support the behaviours their children are presenting.  These sessions will be tailored to the emerging needs of the family.
These sessions will be conducted by a qualified and experienced therapists registered with BAPT, UKCP or BACP.