Projective Play
"The second stage is projection where the child relates more to the external world beyond the body."  (Jennings, S 2006)

This second stage of play is where children begin to explore the world using toys and objects separate from themselves.  The objects can be used through embodiment play and/or used in dramatic play and in a narrative form.  For example, a child may enjoy using their senses with the sand by touching, smelling, listening, but may also use toys in it and tell a story about the toys in the sand.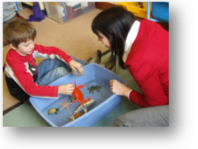 From this stage these are a few skills they develop: 
Imagination
Language and communication skills
Continue to develop emotional regulation
To manage frustration
Numeracy skills
Organisation skills
Self confidence
Friendships
Below are a small number of activities that can help develop this stage.  As with all the stages, they can be developed at other times in life.
Reference: Jennings, S. (2006) Creative Play with Children at Risk Milton Keynes: Speechmark