Embodiment Play
The first stage of play (Jennings, S. 2006) is called Embodiment play which includes sensory play.  This generally begins during the first year of life and continues through their life time.  With this play, the baby uses their body and senses to explore themselves and their world.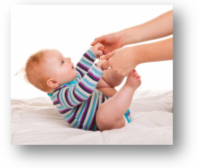 From this stage these are a few skills they develop: 
Ability to make and keep relationships (attachments)
gross motor skills and fine motor skills
Co-ordination
Learn where their body begins and ends
Balance
Spatial awareness
Language and communication skills
Brain development
Below are a small number of activities that can help develop this stage.  As with all the stages, they can be developed at other times in life.
Reference: Jennings, S. (2006) Creative Play with Children at Risk Milton Keynes: Speechmark