Jogo Behaviour Support Blog
Book Review - Ish by Peter H. Reynolds Sunday, 17 March 2019
Book Review - Ish by Peter H. Reynolds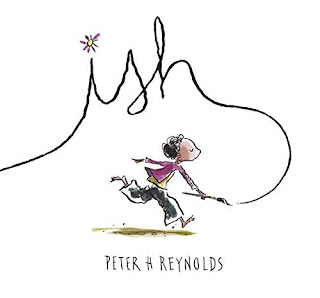 This beautiful little book is a must for every school and Play Therapy room. The story
follows a
little boy who is struggling with his self-confidence about drawing and he keeps screwing up his pictures. However, his little sister collects them and decorates her bedroom with them. She opens his eyes to the fact that his pictures do not have to be perfect and they can be "ish" pictures. "Treeish", "houseish" and "giraffeish". He then begins to feel confident again in his ability to draw.
I used this book with a child who was struggling with high levels of anxiety and struggled to put pen to paper in any learning task. We read this book together and then created lots of "ish" pictures. Our pictures generated lots of laughter and the more we did, the freer and more confident he became. He then used this technique of drawing an "ish" picture prior to any learning task and it enabled him to risk trying the task. This fantastic little book may be the turning point for some pupils and allow their creative side to develop.
Recipe - Annabel's Apricot Cookies Sunday, 3 March 2019
Annabel's Apricot Cookies
Karmel, A. (2003) Lunchboxes, London: Ebury Press
These cookies are a rather unusual, but totally irresistible combination of dried apricots, cream cheese and white chocolate.
Our children love these cookies and it is a delicious way for them to eat dried apricots. Dried apricots are particularly useful for constipation.
100 g (4 oz) unsalted butter
100 g (4 oz) cream cheese
100 g (4 oz) caster sugar
50 g (2 oz) chopped dried apricots (or dried cranberries)
65 g (2½ oz) white chocolate chips or chopped white chocolate (I have used dark and milk chocolate too and they are just as delicious)
Pre-heat the oven to 180˚C/350˚F/Gas 4
In a large mixing bowl, cream together the butter and cream cheese. Add the sugar and beat until fluffy. Gradually add the flour, then fold in the apricots and chocolate. The dough will be quite soft - don't worry!
Drop the mixture by heaped teaspoons onto non-stick or lined baking sheets and bake in the oven for about 15 minutes or until lightly golden. Allow to cool and harden for a few minutes before removing them from the baking-sheet and transfer to a wire rack.
These are great eaten warm and also cooled down for lunchboxes. (if they last till the next day, which invariably in our house they do not.)
Karmel, A. (2003) Lunchboxes, London: Ebury Press
Image:
https://www.annabelkarmel.com/wp-content/uploads/2010/04/Apricot-Cookies-3-380x315.jpg