Jogo Behaviour Support Blog
Frozen Shoes Activity Friday, 2 August 2013
Frozen Shoes
(adapted from Orlick, T. (1982) The Second Cooperative Sports & Games book, New York: Random House)
This game is a fantastic game for developing self-regulation.
Self regulation is a necessary skill for children to learn and it reportedly helps with their academic attainment. The game can be played by groups, families and pairs. It is an inexpensive, simple and fun game that can be played in the classroom, outside, at home or in the therapy room.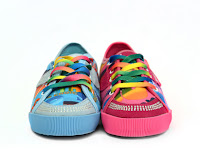 Each person walks, hops, spins, runs, or dances around while balancing an upside-down shoe on her head. If the shoe falls off, the child is frozen and a friend must pick up the shoe and replace it on the frozen child's head-upside-down-to unfreeze her.
To increase the challenge for older children, this game can be played in pairs or small groups. Two or three people link together and move around as a unit, each with a shoe on his head. If anyone drops a shoe his whole group is frozen, and another group must unfreeze them as a unit. To do this rescuing, the group must all squat down together, pick up the dropped shoe(s), and replace them on the frozen group's heads, without losing their own shoes in the process. If one of the helpers' shoes drops to the floor, both groups are frozen. Adding music that makes you feel like moving gives a little spice to the game.
Other items could be used instead of shoes.
Benefits of playing this game:
Develops children's self-regulation skills

Develops play skills essential for healthy development

Develops working together skills

Develops their language and communication skills

Develops relationships and social skills

Develops gross motor skills

Develops sharing and waiting skills

It is fun, cheap, highly beneficial and simple.