Jogo Behaviour Support Blog
Christmas Breakfast Granola Wednesday, 21 December 2022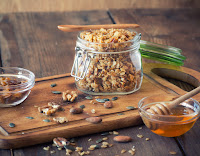 Christmas Breakfast Granola
https://www.womanandhome.com/recipes/christmas-breakfast-granola/
This yummy recipe from Women and Home magazine is a great way to start the day.
Ingredients
· 300g oats
· 6tbsp maple syrup
· 2tbsp vegetable oil
· 1tbsp honey
· 2tsp cinnamon

· 2tsp mixed spice
· 1tsp vanilla extract
· 1tsp sea salt
· 70g pistachios
· 75g dried apricots, chopped
· 75g dried cranberries
For The Nuts:
· 70g pecans
· 70g hazelnuts
· 1tsp maple syrup
· 1tsp mixed spice
· gold edible glitter spray (available from Sainsbury's)
Method
· Heat the oven to 180C. Mix the oats, syrup, oil, honey, pistachios, spices, vanilla and salt, and put on a baking tray lined with baking parchment. Bake for 20 mins, then leave to cool.
· Meanwhile, combine the pecans, hazelnuts, maple syrup and mixed spice, then roast on a separate baking tray for 15 minutes. Leave to cool, then spray with gold glitter.
· Combine the granola mixture, nut mixture, pistachios, apricots and cranberries. Store in an airtight container.